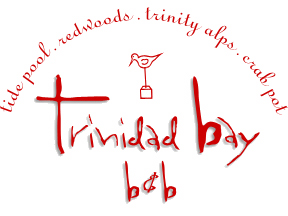 Trinidad Bay Bed & Breakfast
560 Edwards Street, P.O. Box 849, Trinidad, California 95570
For reservations, please telephone: (707) 677-0840 or book online at our shop from 10a-6p
The prettiest, most romantic B&B in charming Trinidad, California
Welcome Guests! In the heart of town, on a bluff overlooking Trinidad Bay and the Trinidad Memorial Lighthouse, is the Trinidad Bay Bed & Breakfast. The only historic B&B in Trinidad, this Cape Cod style home was lovingly converted to a B&B about 35 years ago. It is a quintessential B&B, and one of Trinidad's Icons.
Redesigned with an upscale decor and amenities, each of our 4 guest rooms has a super plush king size bed with luxurious linens, a private bath, and spectacular bay, ocean, garden, and Trinidad Head views. Enjoy a served 3 course breakfast, free WiFi, complimentary toiletries, hairdryers and schedule free airport pick-ups. There's never a 2 night minimum & seasonal specials and nightly discounts are offered.
An unique lodging option. Great value, even when considering budget travel hotels, motels, inns, and other standard accommodations near Eureka, Ca or Redwood National and State Parks. You'll want to "stay another day".