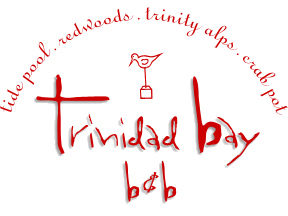 Trinidad!
Where the Redwoods Meet the Sea!
Trinidad is an alluring vacation spot. Its scenic beauty is legendary. It's anchored on a high bluff overlooking the rugged California Coast with picturesque fishing and crabbing boats in the sparkling harbor below. The off-shore rocks and sea stacks are part of the California Coastal National Monument. Trinidad is a Gateway City singled out for viewing this spectacular national treasure. Local shops and restaurants are a short walk away.
A trail around Trinidad Head offers superb spots for picnicking and whale watching. Visit six nearby beaches, trails, the Redwood National Park and many other fine state and local parks. Start your Lighthouse Passport collection with two Trinidad lighthouse stamps.
Late Spring and Summer are filled with hearty outdoor activities. Fall and Winter are appealing times for those who savor cozy, rainy nights and contemplative, fog-laden days. We offer serene vacations with relaxing, comforting accommodations, special courtesies, and unmatched service, all in the magical setting of Trinidad.
The prettiest, most romantic B&B in charming Trinidad, California