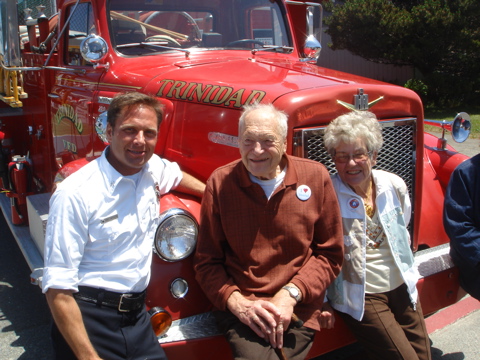 Mike, the Saunders, and Eng.42 at the Fish Festival
click or close this window to get back to the Trinidad Bay B&B Web site

My Trinidad Story ... so far

Hi, I'm Mike Morgan. I moved here four years ago from San Francisco - now my second favorite city in the world after Trinidad. Yes, that's right, our little Trinidad is a city. It's one of the first cities in California. With about 200 full-time residents, it is also one of the smallest. Everyone here has serendipitous stories of how they discovered Trinidad. Here's mine.

Traveling back from exploring Shasta and Oregon one spring, I got lucky. I was getting really hungry after not finding anything in Crescent City. My friend's navigation system suggested the Seascape Restaurant in nearby Trinidad. It was dark, so the spectacular views here were hidden. Lit-up Little Head, the pier at the harbor, and funky little booths at the Seascape still made an impression on me. I've lived in Northern California for over thirty years, and I've never seen this little place - odd. Little did I know, but Trinidad had already started charming me. A year later, I was planning a tour of natural hot springs in Northern California. Surfing the Web, I read a recommendation about Patrick's Point State Park. I decided to visit it too. After stopping in Shelter Cove, always wanted to do the Lost Coast, Patrick's Point Park was next. I gassed up in Trinidad, and detoured over to Trinidad State Beach Park on the way. Wow! That's some bait you've got there Trinidad. I've been fortunate enough to travel all over the world, and I've never seen such a special beach anywhere. It's a dreamlike setting in a movie or something. That instant, I knew I would move here and retire someday. I couldn't stop smiling. At the other end of the beach, there was that little restaurant again - the Seascape. I realized I was here a year ago, and was so excited to explore the area, I never made it to Patrick's Point Park that day.

I found amazing springs east of the here, and in Lassen National Park, and off highway 395 in the north and back towards Mammoth. My favorite thing I found on that trip though was not a hot spring at all. It was Trinidad. Back home in San Francisco, I told my real estate agent that I wanted to move up as soon as I finished my house I was building. I was in the sheet rock phase, which is half way done in contractor's terms. I guessed I'd have another year to go, but she brought me a buyer the next week! It was a perfect match. The house looks great and the finishes are more elegant than I would have been able to afford. I love win-win situations. Stunned, I was moving up here a matter of months after my visit. I came up with my dog Jack and met with Rei Shore - a local real estate agent here. I was so happy to be back. I was leaving on Friday, but Rei encouraged me to stay over, have dinner at the Beachcomber Cafe, and watch her friend perform. The Beachcomber is a special place. I was in tears that night, with everyone and their kids in the little cafe singing along to "Soulshine, it's better than sunshine ..." after dinner. This place resonated with me in ways I didn't understand, but certainly felt.

There were no homes for rent here that year. My new Trinidad friend, Jason, had friends, Kim and Stan Binnie, here and they told him about a house on State Beach that was for lease. It was a little pricey, but I took it as a fortieth birthday present to myself. Things were coming together so quickly. While I've always been lucky in life, this was surprising me. I'm grateful to people who have shown me that we get exactly what we want and believe we deserve in life. That's why its important to create your own dreams in your life, because whatever we believe and dream becomes true.

In SF, I had a dream of building a house up here and living in the redwoods, looking out over the ocean. I was told Trinidad and Santa Cruz are the only places in the world where the Redwoods come all the way to the ocean. My dream changed. While I loved living above the beach my first year here, the sunsets I saw there are burned in my memory and heart forever, I learned pretty quickly that I wanted to be closer to town. Closer to the middle of all the action ha-ha. Like most people, I love Edwards Street between Ocean and Trinity by our Memorial Lighthouse. When you see the view, it's really a no-brainer. I had Rei approach the B&B owners, but we had no response. With nothing for sale in Trinidad that year, I bought and began remodeling a charming little bungalow on View Street - resigned to waiting for my turn to have one of our more spectacular views. Maybe I should have waited a little longer. My friend Tim had heard through my neighbor Bill that I was interested in buying and restoring his little white house on Edwards, next to the B&B. Tim let me and his sister's friend bid on the property, and I lost out - by a lot. Well kind of.

I loved the idea of restoring that little white house, and growing old there watching the bay. I was pretty sad. I took a walk around the Head, and was kicking myself for not offering more for it. After all, I knew in my heart I would live in Trinidad for the rest of my life. The house next door to Tim's had come on the market, and though it was way big for just me, and more than I wanted to spend, I decided I better jump on it. Meanwhile, Don, the B&B's owner, had talked to Tim and I met him. His circumstances had changed, and he was entertaining the idea of selling the B&B. I was ecstatic. I talked to my friend Jason about managing it. He was working as a telephone operator at Humboldt State, but like everyone in Trinidad, his heart was definitely here. He was excited about the possibility. Jason loves Trinidad so much that he said he'd rather live in a tent in Trinidad, than a big house anywhere else in the world. I told him to imagine working at the B&B and visualize that he was already there as he walked by each day. I still don't know how it all worked out, but I ended up with my house and the B&B and the bungalow at the same time. I love that little bungalow and still wanted to keep it. I tried to get my mother in there, but we couldn't make it work financially. I had to put it on the market.

Now I had to learn how to run a B&B. I was excited to put my stamp on it. Don was very helpful in the transition, but we have very different business models for the B&B. I had stayed at a few B&Bs and Inns before, but mostly I split my vacations between roughing it backpacking and staying at luxury hotels. So not lots to go on, but maybe there was. I decided, that I would make the B&B a place I would like to stay, the way I would like to stay there, and hope that would end up making my guests just as happy. I knew all the rooms needed new super luxurious king sized beds first. Just like mine at home. Don and everyone thought I was nuts trying to get those beds upstairs - I had to tear up part of the steps to get them in, but I got them in. Of course I'd like the best linens I could barely afford - 1000+ thread count Egyptian cotton and down blankets and pillows. I love Restoration Hardware towels, so that was especially easy since they started over in Eureka. They get my guests swinging by to grab towels on their way home, so I know they are a hit. The bathroom fixtures are from them too. All of the rooms have the same beds, linens, and great views of Trinidad Bay. Even though the smallest room, Crab Pot, has an awkward little bathroom, it's probably still my favorite. I think it's the daybed in the dormer and laying in bed looking at the Bay is very nice.

Next, I wanted to freshen up the decor and my mother told me I had to have themes for my rooms because that's what you do in a B&B. The rooms were called different colors before and they had carpeting and walls to match. Our special local attractions seemed like great themes. That's how Tide Pool, Redwoods, Trinity Alps, and Crab Pot became the names of our rooms. The entrance room, where breakfast is served, is now the Simmon's Social Room - named after my friend Ned. Ned has loaned me several of his paintings for this room, and a great one in the Redwoods room. He is Trinidad's best raconteur and has a great art gallery on Trinity Street. In winter, when we we aren't so full, we have him come over for breakfast and stories. All the B&B's art is from local artists - from Trinidad's Mayor, Chi-Wei, to local artists Sam Lundeen, John Crater, and many others. Pictures I've taken of tide pool creatures, and ones from hikes in the Trinity Alps are in the rooms. Bob Hallmark's picture of the pelican that would always accompany them when they brought in their catch is in a couple of rooms. Other pictures are from Jason's hikes, copies of historic photos from our museum, like the boy at the old Trinidad whaling station in Crab Pot, and one of my friend Ann Odom's of our Memorial Lighthouse at Christmas.

Like many B&Bs the interior was decorated country-like, and while my mother liked this style, I had inspiration to make the inside match the outside - so everything is more Cape-Cod now. Being so far north with limited furniture options, I was relieved some of my favorite stores, Pottery Barn, William Sonoma, and West Elm, had nautical themes this year, and they delivered! It was lots of organizing and planning, but I got the orders in and we went to work on painting and re-carpeting. I had my parents come in from North Carolina and Florida, and as I wore out one friend from San Francisco, I'd get another to come up and help. I also had to redo the B&B's marketing collateral design to match the new look. Fortunately, this was easier for me because that had been my profession in San Francisco. The Kirks transformed this house into a B&B in the early 1980s. I liked the bird they used on the original signage, so I adopted it. Since we don't have many seagulls around Trinidad, I decided our bird is actually a tern. These are special birds which come in the spring and love our offshore rocks. They get up early and have several distinct calls that become a great welcoming to the season. I took new pictures and redesigned our Web site, brochure and cards. The new design is a hit, and it led to me redesigning our Trinidad Chamber of Commerce brochure and logos ... hey wait a minute I'm supposed to be retired now.

As well as being on our Chamber Board of Directors, I'm also on the Trinidad Planning Commission as chairman, and my favorite community service is with our volunteers at the Trinidad Volunteer Fire Department. I joined the TVFD right away, and went back to school (after 25 years!) to learn emergency medical care. After that I went through and graduated our local Fire Academy in '07. I now have the honor of being Captain Morgan - arrrrgg. So I'm working more than I did in San Francisco, for free - hmmm that's an interesting retirement. I do love the work - especially the people I've come to know and care so much about. I'm still learning how to balance it all with going to the beach and traveling. I'm lucky Jason does such a fantastic, independent job running the B&B as Innkeeper. In fact, after reading all the accolades to him in our room journals, I decided I better stay out of the way since everyone is so taken with him, how clean he keeps the place, and his great breakfasts. I still pop over for breakfast frequently, but its nice to be able to pursue other projects in town and know my guests are well taken care of.

Back to the B&B remodel. Even though we weren't open yet, a German couple wanted to stay one rainy night. My mother was making Easter dinner and Trinity Alps was in the middle of being remodeled. They were very happy anyway, and we shared some wine with them. The next morning was brilliant - sunny and clear. Turns out the boyfriend proposed that morning on Trinidad State Beach, and they were now engaged. He said he had been thinking about it for a long time, and the beach was so moving for them, he knew it was the perfect moment. That's pretty cool, that our first guests ended up getting engaged. Turns out a year later that another German couple that stayed in Trinity Alps got engaged while they were here too - is this going to be a yearly experience? While there is still lots to do, like remodeling the bathrooms more, I'm very happy with the way the B&B turned out.

Now that it looked great, I had to learn the day-to-day business and make it reflect the design. My goal is to have guests feel like they are visiting my home and treat them like my personal guests. I talked with other local B&B owners who were and still are very helpful. I ended up changing most of the rules of the house. I trust people will take care of things like they do at home, so I pulled the rule lists out of the rooms. I also tossed the two night minimum idea out the window. While it isn't financially as sound as getting people to stay more nights, and its a little more work for Jason, it makes sense to me spiritually. Its actually a little selfish on my part. I get the greatest joy sharing Trinidad with people. The more people that get to stay, the more joy I get. While all the local lodgings work together to get people in rooms if they are full, I still feel sad sending people away. The summers are always full, so I had Jason leave Tide Pool or Trinity Alps open so some lucky people would have the great experience of discovering Trinidad and the B&B on their travels. Again, not the best financial motivation, but it sure is fun. I tried something else differently, I averaged the price of the rooms to make them all the same price. I thought this was a great idea - what would've been the least expensive room would end up setting the pace for rooms that could go for much more. This ended up being too confusing for my guests, so I've restructured the prices to reflect each room's individual value. Not all new ideas work out huh? I still keep prices as low as I'm able, and when we get more people visiting in the winters (hint hint), I'll be able to have an even better value in the summer. The B&B has always served breakfast at 8:30, because it never rains at 8:30 in Trinidad, and that's really the only rule I didn't change. This one is really nice for Jason. He doesn't get wet serving to guests that want breakfast in their outside rooms. Of course Jason accommodates guests that need to sleep in, or those that got in late, but for the most part, the timing works really well. It gets everyone together and allows Jason to make more special three course breakfasts. Some other things I added are free WiFi (I'm a geek), relaxed checkouts to 1:00p, and free airport pickups. Service is what sets any experience apart for me. If everything else goes awry, and the service is exceptional, I'll have a great experience. I strive to create that for my guests, and focus Jason on this - just ask him how hard I can be about it. Guests come first over what's easier for us, and their special requests are opportunities to show how much we appreciate them staying with us.

Well that was a long story. I hope you enjoyed it. If you are discovering Trinidad for the first time, make sure you stop by and say hi. Trinidad is the most special, peaceful place on Earth. You must be a lucky person to have found it too. Congratulations and welcome to Trinidad.

---
Copyright © 2008 Mike Morgan, Owner Trinidad Bay Bed & Breakfast. All rights reserved.